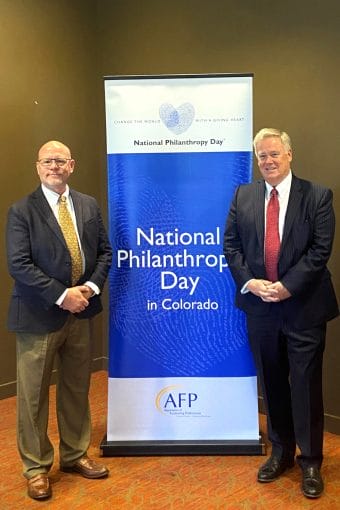 At the National Philanthropy Day in Colorado, The Weld Trust was recognized as the Outstanding Foundation of the year. The event took place on Thursday, November 9 at the Denver Center for Performing Arts with several hundred in attendance. This prestigious honor is chosen by selection judges comprised of a diverse group of nonprofit and for-profit executives in Colorado.
The Outstanding Foundation award is "presented to a grantmaking (private, community, or corporate) foundation (giving to the broader community, across several funding areas, not just one organization) that has demonstrated outstanding commitment through strategic financial support and through encouragement and motivation of others to take leadership roles in philanthropy and community involvement." states the Association of Fundraising Professionals, Colorado Chapter.
The Weld Trust was nominated for this award by one of its grant recipients, St. Vrain Valley School District. "The Weld Trust is seen as emerging from the community, as being alongside it rather than above it," described Don Haddad, superintendent for St. Vrain Valley School District in his nomination for Outstanding Foundation. "The Weld Trust is truly a 21st century foundation, taking the best structures from established philanthropy and imbuing them with a responsive spirit that reflects a more modern philanthropic philosophy."
The Weld Trust awards grants to nonprofits, schools and government entities in the areas of health and education who are located in Weld County or serve Weld County residents. The St. Vrain Valley School District serves over 13,000 Weld County students.
In 2022, The Weld Trust awarded over $12.8 million to 82 nonprofits and schools. This year, they expect their grantmaking to exceed that amount.
"The Weld Trust is uniquely positioned to create a long-term impact for our community with concentrated grantmaking restricted to only Weld County," shares Jeff Carlson, CEO for The Weld Trust. "Being focused on only one county, we're able to develop strong relationships with our nonprofit partners."